Divorce-A-Mania For Brother Hulk Hogan
Hulk Hogan has been slammed hard, but not in the wrestling ring. His wife Linda Hogan now known as Linda Bollea, 46, has filed for divorce in Pinellas County. She has been married to Terry Gene Bollea, 53, famously known as Hulk Hogan, since 1983 and the couple has two children, Brooke, 19, and Nick, 17.
It seems that after 24 years of Hulk spoiling her with houses and a lavish lifestyle all the while indulging his children, she has decided she wants something new for herself… a new life without the father of her children.
As Christmas time approaches and their son Nick (now having troubles and in need of some quality time with his father), Linda thought it would be perfect timing to drop her selfish bomb of independence.
Recently, the couple's son, Nick, has made headlines. The teen faces a felony charge that he was driving recklessly in August when his Toyota Supra went out of control and slammed into a tree. His friend and passenger, John Graziano, suffered a nasty brain injury.
According to the St. Petersburg Times, Linda Bollea is seeking half of the couple's more than $9.5 million in assets, and:
An unspecified amount of alimony and child support.
That Terry Bollea, also known as Hulk Hogan from his days as a professional wrestler, pay for Nick's health insurance.
That Terry Bollea take out a life insurance policy to cover child support for Nick, if necessary.
The Hulk, like many other men failed to read the writing on the wall and take steps to protect his future financial health. A Times reporter reportedly broke the news to Hogan on Friday night.
He thanked the reporter for the "great information" then called back five minutes later to say, "I'm kind of shocked. You caught me off-guard. My wife has been in California for about three weeks. … Holy smokes. Wow, you just knocked the bottom out of me. … I just pulled over to the side of the road for five minutes to find out what was going on here."
Some of the couple's marital problems unfolded during this season of Hogan Knows Best, the 4-year-old VH1 reality show that chronicles the lives of the famous wrestler and his family, including daughter Brooke, 19.
In one recent episode, titled Wedlock Headlock, the couple attends marriage counseling together but seems to be getting back on track by show's end.
We'll give Linda credit for that. It was smart to put The Hulk at ease and then take off to make the plans. Sure Linda, why not give him false hope while you are having the divorce petition drafted.
We have no need to brand her a gold-digging blonde with huge jubblies, she's done that all by herself in the media. Women don't seem to understand the unfairness of alimony and the disgust that goes with it from us men.
Why should any man pay a monthly fee to a home-wrecker! Especially one who is already getting half of the assets.
If this women is getting 4.5 million in assets, why is she torturing the Hulk in having to pay her every month for breaking up his family? He is an aging injured wrestler who is just trying to have what most men desire, satisfaction and peace of mind.
If Linda wants to live in the manner that she has become accustomed to, why doesn't she take her giant jubblies and go dance around the pole for her money.
She obviously doesn't have a brain to keep her reputation in check. She could have done this tastefully:
File papers at a time when her son Nick is not in trouble.
She could have played fair with the Hulk, but like most women who file for divorce, it's always pre-planned in secrecy.
Perhaps if she was respected, she could have written a book, "My Life with the Hulk" and tastefully recant the good times she had over the years, a nice thing to do for the children.
Dignity and integrity are two words she obviously doesn't understand.
Brothers, 80% of divorces are filed by women in the USA. The most filings come just after the New Year, when women are empowered and looking to drop their "dead weight" (husbands and thighs). They join the gym and call their attorneys.
Now you can see why it is so important for men to pre-plan a divorce. The Hulk was blind-sided and is now having to wrestle with divorce defense instead of offense. A place no one likes to be in battle.
Brothers, If your marriage is on the rocks, you can spin your wheels like the Hulk did with ineffective marriage counseling, or you can give yourself a chance in protecting your future prosperity by grabbing your collection of Brutal Divorce Tactics DVDs and digging in to your bunker. Learn how to get alimony as a man! Learn how to get her out of the house so you can stay put! It's all in this amazing set of DVDs.
Alimony is gold-digging and needs to be abolished. No human being should pay a monthly fee for someone's else's living expenses. I'd rather pay that money to a starving child in Africa than to some nasty ex for the rest of my life.
Can A Husband Get Alimony? Attorney Krystal Clemens from California offers up some advice to help men get alimony from their ex-wives during the Brutal Divorce Tactics Mastermind Summit. See video below.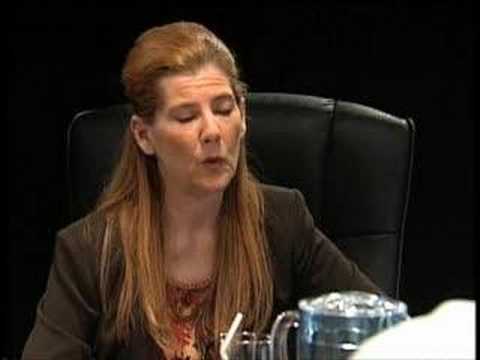 ---
STORY UPDATE:
Since our post, things are getting more interesting, this just in after our ranting on Linda:
Hogan Divorce Could Be Work
Posted by Ashish on 11.27.2007Lawyer for Nick Hogan crash victim says Hogan divorce may be ruse…Kimberley Kohn, a Tampa attorney who represents Ed Graziano, the father of injured passenger John Graziano, says the Hogan divorce is a move to protect assets and is more a ruse than a real divorce.
The Graziano family is planning on filing a lawsuit against the Hogans and Kohn says that the Hogans are divorcing in order to force the Graziano's to go after both of them separately which makes the entire process more difficult. In all likelyhood, they will only go after Hulk Hogan since the cars used in the wreck are likely under his name alone, and now with him getting divorced, his assets will likely be cut in half (with the other half going to Linda), thus assuring the Hogans that they will retain at least half their fortune in a worst case scenario.
John Graziano has been hospitalized since August after being the passenger in Nick Hogan's car which ended up getting in a wreck. John will now likely need a lifetime of nursing home care.
Nick Hogan is facing a felony charge of reckless driving with serious bodily injury.
The St. Petersburg Times has a detailed article on this situation up here.
Tags:
alimony
,
Brutal Divorce Tactics
,
child support
,
Divorce
,
divorce planning
,
gold digger
,
marriage counseling
,
marriage problems
Also Worth Reading: